Science Audio/Podcasts
Please feel free to download, link to and share our audio files. All of our work, including these audio files, are copyright Things We Don't Know and licensed under a Creative Commons Attribution-ShareAlike 4.0 International License. If you share or use these files, please ensure you attribute us appropriately and link back to us. We'd appreciate it if you let us know, too.
Audio Downloads
All of our audio files are available for free.
Why do we age?
-
Monday, 24th March 2014

We know that ageing is an inevitable part of life but we still don't know why we age, or how.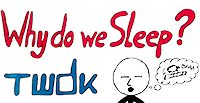 Why do we sleep?
-
Thursday 19th of December 2013

Sleeping is one of the most basic functions of our bodies. But why do we do it?

Full transcript with references.

Backing music Perspectives by Kevin MacLeod (incompetech.com).